Words or phrases starting with V
Ver menos que Pepe Leches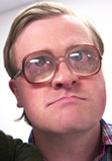 To be blind as a bat, to be very short-sighted. Examples: "No sé cómo aun le dan el carnet a mi tía. ¡Si ve menos que Pepe Leches!"
Temas
Meth. Examples: "Me da igual, tío. Llevas una semana allí. Píllame vidrio que me voy a correr una juerga."
Cheap and low quality wine. Examples: "El calimocho llevaba un vinazo que te dejaba la cabeza hecha mixtos." // "El tintorro del pueblo era un vinazo que no valía ni para fregar el suelo."
Temas